HUGE HUGS AND KISSES TO
woman_of_
,
mentalme85
,
frenchani
,
spankspike
. Thank you so much for your birthday wishes - they really made my crappy day brighter. :-)
Sorry about confusion on the date, I kind of getting confused with it myself. I was born on the 9-th, but according to the US time it was the 8-th. I get drunk on whatever date is handier though. IoI And yeh, I was born in the same day with Amber Benson, so, considering my old age, you know why it is no longer a cool day for me.
Chani, got your post card today. Thank you! *hugs* :-) Didn't make it to the New Year, made it to my birthday. IoI Cannot show it to anyone though, the "hot porn manips" comment would raise too many questions (no, my family/friends don't know I am into a gay porn).
Finally, the reason why I am on the diet now... CHEESES, which I consumed in the inhuman quantities during the holidays. Snapped the picture (below) before Christmas, and for the New Year I doubled the number. IoI Now my ass doesn't fit into most of my clothes, and I have to drag it to the GYM every day. My life isn't fun.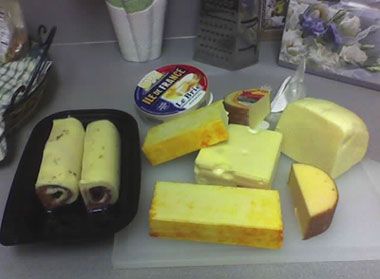 Current Mood:

grateful